Adventures in Spain – 2 Days in Granada
When I told my mom that I was renting apartments through AirBnB on our visit in Spain I don't think she knew what she was getting into.  The last thing she expected was two nights in a cave in Granada.  Yup a cave, furnished but still a cave.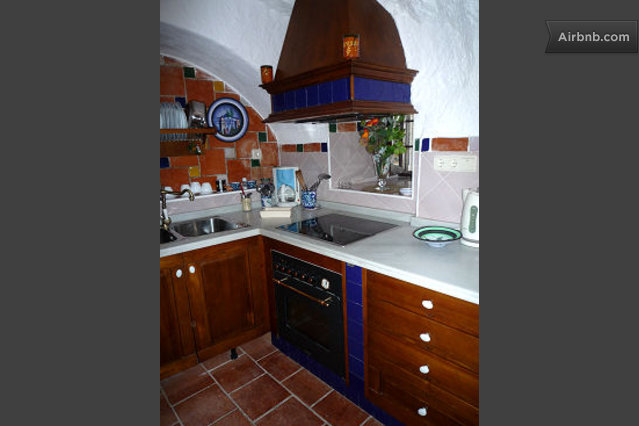 The photo makes it look cozy but it lies because sleeping in a cave, although warm and toasty, is still a cave.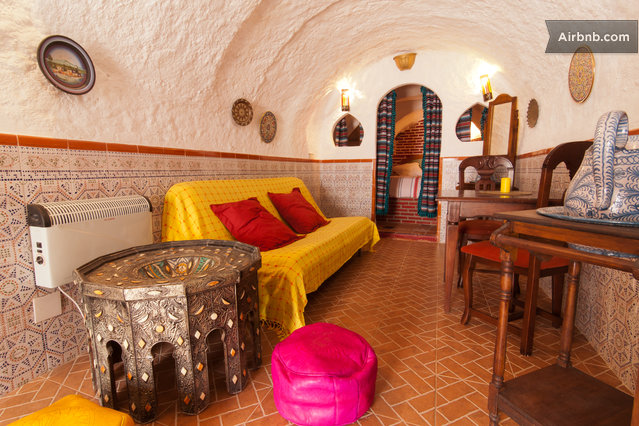 Our cave like all the others was in Sacromonte  a neighborhood in Granada that was about 15 minutes away from city plaza. What it lacked in modern conveniences and other nuisance such as barking dogs, it made up with a view.
The towers of the Alhambra at night.  I'll have a whole post devoted to our visit eventually =).
Our train ride to Granada was probably one of my favorite during the trip.  We passed mountains and valleys and as sleep deprived as I was I kept staring out my window wide awake.
I could tell that my mom and Tony felt the same way as each of us took up our aisle so we could get the window view.
After a short introduction to our cave, we decided to venture out for food and a little exploring
Immediately we passed by this garden and amazing fruit trees
I believe those were Loquats.
With a long list of things to do, we kept on walking down the steep hills as I begged my feet to not trip me.  I have a long history of being clumsy.
We walked through El Albayzín, a neighborhood that retains the narrow winding streets of its Medieval Moorish past. It is filled with shops of trinkets and scarves and full of delicious North Africa eateries.  There were also Arab bath houses but I think the few we passed were closed on Mondays so we missed out on that part.
By the time we got to finding a place for lunch it was around 4 PM and like the rest of Spain, our options became limited with many restaurants closing down for the break before dinner.  We settled on a tourist friendly place of being large, moderately overpriced for the quality of food but still open past 4PM.
Tony got himself a meat platter with ribs.  I guess he wanted something a little more American?
I got a paella like rice dish that was delicious.  It would have been better if snails were not included and I didn't have to pull them out as I crunched on one or two.  Oops guess I missed that part of the description.
And a potato quiche to keep things boring.
Granada has been settled by Arabs, Jews, Christians  Gypsies and anyone else so the architecture and beauty of the streets are unlike any other city in Spain.
Granada Cathedral
Plaza de Isabella Católica
The front of Granada Cathedral
The mountains surrounding Granada create a much colder climate at night then we were used to while in Seville.  Solution?  Warm up with some hot chocolate and churros (a Spanish donut).